Ruislip Lido | A Lake with a Beach in Ruislip
Introduction To Ruislip Lido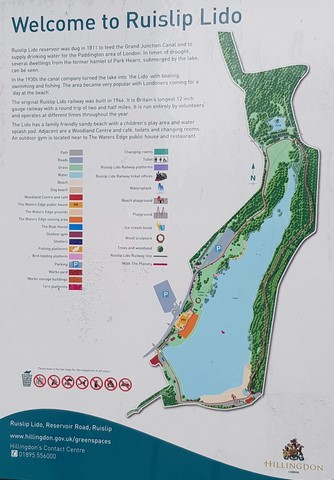 Ruislip Lido is a large lake (technically a reservoir) towards the north of the London suburb of Ruislip in the London Borough of Hillingdon.

It makes a splendid walk, there is a miniature railway, a pub, a beach, several picnic areas, children's playground and a café. It is, in the summer, a very popular place to go.

There is no admission charge at Ruislip Lido but there is a charge to ride on the railway and to park your car (unless you have a "Hillingdon First" card).

The car parks at Ruislip Lido (and car parking in the area in general) can be confusing. Check out our Ruislip Lido Car Parks section if you plan to drive to the Lido. Cars frequently get tickets or towed away. We also suggest alternative parking options if you find them full.
Use the menu at the head of each page to find your way around this large web site. Here you will find information on the its construction, its heyday (1960's and 1970's), it's demise and rebirth to what it is today, a VERY popular west London attraction.
What we all today know as Ruislip Lido started life in 1811 as
Ruislip Reservoir
(Read the history from the web site linked)
and was built as a feeder for the Grand Junction Canal, later, in 1933, to become the Grand Union Canal (Company), and thus our nearest canal being known by the name it has today.

The area selected was initially a shallow valley flanked by Park Wood to the south and a now non-existent hamlet of Park Herne to the "north", where the latter was demolished to make way for the reservoir as it was built.
---
Opening Hours for Ruislip Lido
The Lido in never locked, so access is possible 24/7 however certain attractions such as the cafe, railway etc. open and close so the are official opening hours which are as follows.

January 9am to 4pm
February 9am to 4pm
March 9am to 5pm
April 9am to 6pm
May 9am to 6pm
June 9am to 6pm
July 9am to 6pm
August 9am to 9pm
September 9am to 7pm
October 9am to 5pm
November 9am to 4pm
December 9am to 4pm
The cafés, railway etc. may not be operating throughout these hours. The toilets will be locked outside of these times.

The Waters Edge pub operates with normal pub hours.
Why you cannot swim in

Ruislip Lido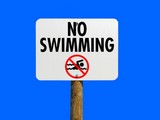 If you want to know why you cannot swim in Ruislip Lido
look here
A view taken over Ruislip Lido in 2019