Controlled Parking and Tow Away Zones
Controlled Parking Around Ruislip Lido
Ruislip Lido Tow Away Zone
Don't get your car towed away!

The roads around the Lido have been designated a "Tow Away Zone"

Be aware if you park illegally the council may tow your car away.

If you car is towed either search on TRACE or ring 01895 271 418 but it will probably be in the car park behind Eastcote Station.

See this page for more details
Ruislip Lido Controlled Parking Zone

New for 2022 a vastly extended controlled parking zone has been introduced by the council in the roads around the Lido.
In a nutshell if you cannot get in one of the designated car parks you are advised to get a bus from Ruislip Station/High Street

Blue Badge holders are only allowed 30 minutes parking in the controlled parking zones.

Roads included are

Zone RL
Withy Lane, Ruislip

Zone RL2

Abercorn Grove, Ruislip
Bury Street, Ruislip
Dell Farm Road, Ruislip
Ducks Hill Road, Ruislip
Lakeside Close, Ruislip
Reservoir Road, Ruislip
Zone RL3

ARLINGTON DRIVE,
BOSTON GROVE,
BRICKETT CLOSE,
BURY AVENUE, BURY STREET,
(The service road fronting Nos. 127 to 161)
HOWLETTS LANE,
ST CATHERINES ROAD,
STANDALE GROVE,
STANFORD CLOSE.
Disclaimer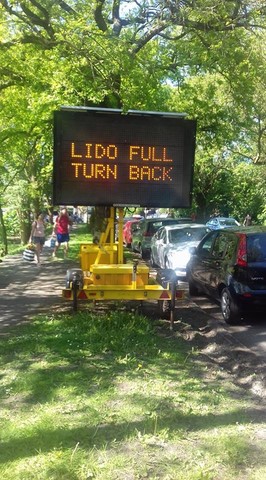 All information was considered correct in 2022. You must ALWAYS check for up to date information at the machines at the time you park. Do NOT park in the Waters Edge section unless you intend to go there and you MUST give them your registration number.

Please e-mail any comments or corrections to me from the form here.

This is a community web site.

We are NOT Ruislip Lido, we are NOT the Council, we have nothing to do with the car parks or the tickets you might get affixed to your car either by the traffic wardens or through the post from the pub car park managers.

If your car gets towed away go to this page but your car will probably be removed to a place behind Eastcote Satation.

E & O.E.