Ruislip Lido Car Park Opening Hours
Lido Car Park Opening Hours
Turn a phone to landscape to view the table below
Car Park

Months

Opening Times

All except Waters Edge

January, February,

November and December

8am to 6pm

Strictly enforced by gates

All except Waters Edge

March, September and October

8am to 8pm

Strictly enforced by gates

All except Waters Edge

April, May, June, July and August

8am to 9pm

Strictly enforced by gates


Waters Edge

The Car Park is open 24 hours

You must be a customer at the Waters Edge
pub and give your registration in over the
bar on arrival or you will be sent a fine through the post.

Do not even enter this car park unless you plan to use
the pub even when the pub may be closed

Latest information
Ruislip Lido car parks Are Locked up Overnight at the times stated
There Is A Controlled Parking Zone Around The Lido
Read All About It Here.
There Is A 30 Minute Restriction For Those With Blue Badges In Zones R1 And R2.
Do not assume with a Blue Badge you can park as "normal" around the Lido, you cannot.
Those With Blue Badges May Not Park In The Lay-Bys On Reservoir Road
and must park in the
car park where you can pay by cash or card.
Disclaimer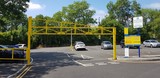 All information was considered correct in 2022. You must ALWAYS check for up to date information at the machines at the time you park. Do NOT park in the Waters Edge section unless you intend to go there and you MUST give them your registration number.
Please e-mail any comments or corrections to me
from the form here
.
This is a community web site.

We are NOT Ruislip Lido, we are NOT the Council, we have nothing to do with the car parks or the tickets you might get affixed to your car either by the traffic wardens or through the post from the pub car park managers.