The Ruislip Lido Railway Book
The Ruislip Lido Railway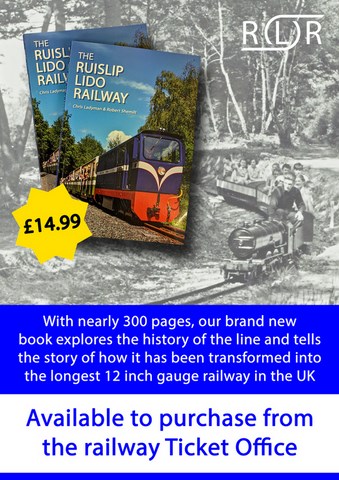 You can purchase this book from the Railway Ticket Office for £14.99.


To find out when the ticket office is open go to the
Railway Web Site.

Hot off the press - we are delighted to confirm the RLR book is now available! The book details the history of the railway right from the origins in 1945, through to the extensive system in use today, taking in the route, locomotives, rolling stock and infrastructure along the way.

The book can be purchased from either ticket office when the railway is running, or for those who aren't able to make it to the Lido, the book is also available online through the website of the excellent 'Miniature Railway Magazine'. linked above.


Feedback from the pre-release to our members and selected individuals over the last few weeks has been superb - the book is well worth a try, you won't be disappointed!


Buy the Book on the Lido Railway Here